Someone recently asked me how to prevent cancer, so here's my answer. As the subject of cancer is vast, I'll keep this brief, and concentrate on what are, in my opinion, the most important things you can do to prevent cancer.
Fight aging
Practically everything I've written on this site and in my books applies here. Cancer is far more prevalent among older people, with some 90% of cases in people over the age of 50, and half over the age of 70. See chart below. (Source.) Age is the biggest risk factor for cancer, other than perhaps smoking – but the latter is well known.
Stay lean
Obesity accounts for about 20% of cancer cases. I believe this could underestimate the risks of obesity, since in the Western world cancer rates are much higher than in the undeveloped world, and Western people weigh more. Thus statistics compare obese people to others that also have a relatively high risk of developing cancer. Given what we know about the relation between body mass index and aging and health, I suspect that cancer incidence rises monotonically with BMI. In other words, other things equal, someone with a BMI of 24 has a higher cancer risk than someone of BMI 22.
"Epidemiological studies have found strong direct associations between increasing body mass index (BMI) and risks of developing type 2 diabetes, cardiovascular disease, and several types of cancer, beginning from BMI of 20–21 kg m−2." (Source.)
However, we know that body fat determines the health risk from BMI, so if you have a higher BMI due to muscle, you're not likely at any increased risk.
Build muscle
Muscular strength is associated with lower cancer death rates. The reason for this is probably not due to a protective effect of muscle in itself, but because more muscle means better insulin sensitivity and better overall health. You don't need to be an actual bodybuilder to benefit from this effect of muscle, you just need to keep your muscle in fine tune and to retain muscle as you age. That means you should train for strength.
Watch the carbohydrate and sugar intake
High intake of refined carbohydrates and sugar is associated with cancer, and people living a hunter-gatherer lifestyle without these foods suffer very low cancer rates. The reasons that carbohydrate and sugar consumption promote cancer may be several, such as
cancer cells feed on sugar (glucose), so providing it to them promotes it; conversely, depriving them of it may prevent it and/or kill them

carbohydrates and sugar lead to high levels of insulin and IGF-1, growth factors that promote cancer

sugar promotes iron overload.
Don't use vegetable oils
Vegetable oils are known to be carcinogenic due to the high amounts of omega-6 fatty acids in them. They're an industrial product that should not be used. Strive to maintain a balanced omega-6/3 ratio, which necessitates not only trashing your vegetable oils but possibly also supplementing with fish oil.
Keep iron levels in the low normal range
Just as they feed on sugar, cancer cells have an appetite for iron. Iron is a growth factor, and rapidly dividing cancer cells require more of it than normal cells. Below is a chart showing cumulative cancer incidence in a group of patients who reduced iron via phlebotomy, vs those who did not. (Source.)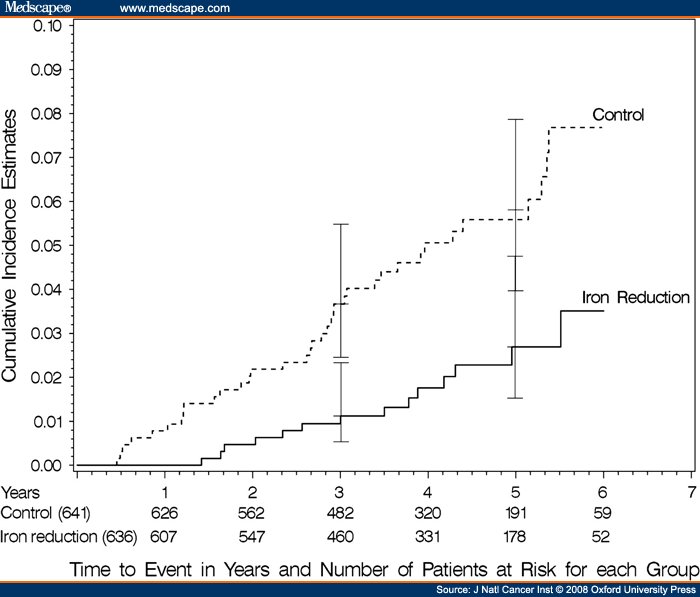 Anti-cancer supplements/drugs
A number of supplements have been shown to prevent cancer in humans or lab animals. Among them are:
aspirin

curcumin

berberine

resveratrol

IP6

metformin

magnesium

zinc
Conclusion
Cancer prevention is intimately linked with all the good things you can do for your health. As I see it, maintaining good insulin sensitivity, keeping iron in the low normal range, avoiding garbage food, and the application of hormesis (exercise, supplements) are key factors.